Nearly 40 Shot over 3 Days in Gun-Controlled Chicago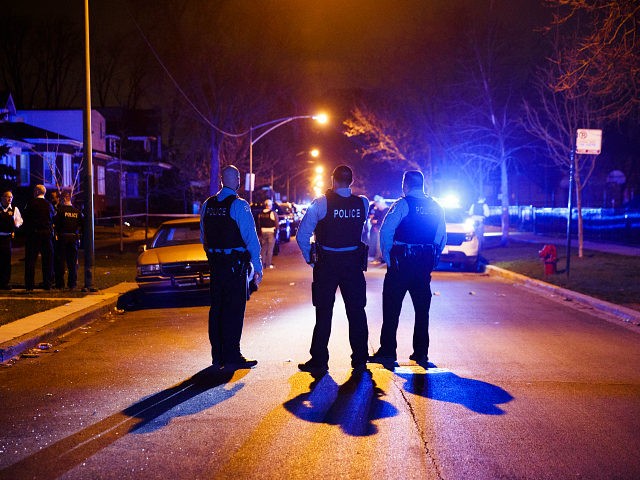 Nearly 40 people were shot during the first three days of this week in gun-controlled Chicago.
The wounded included a 15-year-old boy and a 4-year-old girl, while the deceased included a 21-year-old mother.
The Chicago Tribune reports that twelve people, including the 4-year-old girl, were shot during one 12-hour period stretching from "Tuesday through early Wednesday."
The 15-year-old boy was shot while riding a CTA bus home from school on Wednesday. Police said the boy was hit by a "stray bullet" that grazed his head.
The 21-year-old mother, Nakia Bailey, was shot and killed Wednesday night while "standing with a group of people on the West Side's Homan Square neighborhood." The gunman in a silver car opened fire on her as he rode past.
The shootings came after unseasonably high temperatures were accompanied by a level of weekday violence that "is usually not seen until the middle of summer." Chicago Police Superintendent Eddie Johnson said, "It's not like people sit around and say, you know, I'm gonna wait for the weather to warm up to start making acts of crime. You just have more people out."
On December 21, 2016, Breitbart News reported the murder rate in gun-controlled Chicago had gotten so high it was skewing national murder figures. The death toll in Chicago had passed 730 for the year by December 6, 2016. And the Chicago Tribune reported that the number of murders in Chicago reached 755 by December 21, 2016.
The Washington Post reported that Brennan Center of Justice expected "the homicide rate for the country's 30 biggest cities … to go up by 14 percent" at that time. But they noted that "the killings in Chicago [accounted] for an astounding 43.7 percent of this overall increase in [homicides]."