Every Cable News Network Except Fox Ignored Obama-Farrakhan Photo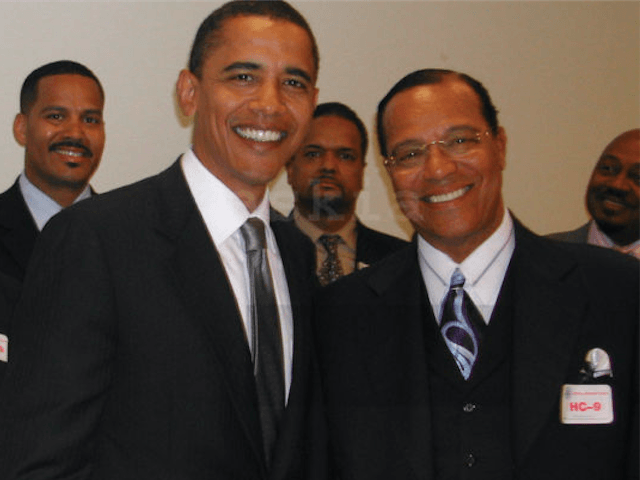 A review of media monitoring services reveals that every cable news network except Fox News has thus far ignored or downplayed the story of the suppressed 2005 photograph of Barack Obama with Nation of Islam leader Louis Farrakhan.
The photograph was released last Saturday by a left-wing journalist. To their credit, the left-wing new media, led by Talking Points Memo, did much of the legwork in reporting further details of the story — such as the fact that the Congressional Black Caucus had invited Farrakhan to meet with them, and that the photograph was deliberately hidden to protect then-Sen. Obama's nascent presidential campaign.
Still, the networks ignored the story.
A good-faith review of news content via TVeyes, Nexis, and Lexis indicates that the only mainstream news network other than Fox to report the existence of the photograph, and its suppression, was CBS News, which reported it last Friday. (NewsBusters.org argues that even CBS' coverage danced around connections between Democrats, Farrakhan, and the suppression effort.)
The most recent coverage of the issue was on Fox & Friends on Saturday, Jan. 27, when the noted defense lawyer, liberal Democrat, and Obama supporter Alan Dershowitz declared that he would not have campaigned for Obama in 2008 had he known of Obama's association with "virulent anti-Semite and anti-American" Farrakhan.
In contrast, cable news networks focused obsessively in 2016 on President Donald Trump's supposed reluctance to disavow support from Ku Klux Klan leader David Duke, even though the two had no prior association and Trump had repeatedly denounced him in the past.
Jake Tapper of CNN pressed Trump during an interview in February 2016 on his supposed refusal to disavow Duke — even though Trump had condemned Duke only two days before.
That became the pretext for claims by the media and Democrats that Trump tacitly supported white supremacists — claims that have persisted to this day, though evidence tying Obama to black supremacists — including his pastor of some two decades, Jeremiah Wright — is far stronger.
As freelance writer Jeryl Bier noted in the Wall Street Journal: "If Republican lawmakers were holding strategy sessions with Mr. Duke, their party would rightly be held to account. Why shouldn't the Democrats and the Congressional Black Caucus be held to the same standard?"