The Hill: Clintons Didn't Disclose All Contributions from Firm Hired by Russian Nuclear Company Tied to Uranium One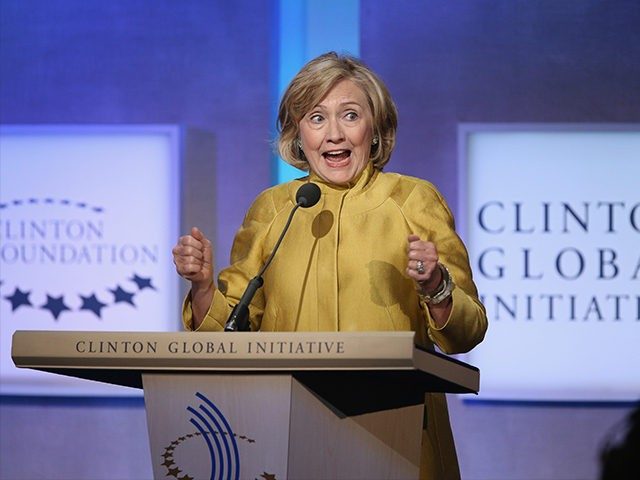 The Clinton Foundation "vastly understated support that the Clinton Global Initiative received from APCO Worldwide, a global communications firm that lobbied on behalf of Russia's state-owned nuclear company," John Solomon and Alison Spann report in the Hill.
The Clinton Foundation's donor disclosure site lists APCO's donations as between $25,000 to $50,000. However, the Hill's own  investigation of internal documents and interviews with sources reveal that APCO "provided hundreds of thousands of dollars in pro-bono services and in-kind contributions to the Clinton Global Initiative (CGI) between 2008 and 2016."
The Hill also reports that Russia's government-owned nuclear company Rosatom hired APCO to lobby Hillary Clinton's State Department and other U.S. federal agencies. When Rosatom acquired a controlling stake in the Canadian mining company Uranium One in 2010, the sale required, and was eventually granted, approval by the Obama administration because the sale effectively transferred Uranium One's 20 percent of U.S. domestic uranium supply to the Kremlin-backed Rosatom. APCO issued a statement to the Hill denying any involvement with the Uranium One deal.
As the Hill previously reported, undercover FBI informant William Campbell testified about the alleged influence-peddling activities of Russian nuclear officials donating to the Clinton Foundation at the time when then-Secretary of State Hillary Clinton was one of the officials responsible for approving the Uranium One deal.
Campbell's lawyer, Victoria Toensing, tells the Hill that her client is ready to testify before Congress that top Russian officials told him they chose APCO specifically because of the lobbying firm's close ties to the Clintons and the Obama administration.
"[Campbell's] Russian counterparts made clear to him they valued APCO's connections to the Clinton Global Initiative and expected it to grow while the firm was working for [Rosatom's subsidiary] Tenex," Toensing said.
She also noted that Campbell informed the FBI of these conversations concerning APCO.
The story of the Clinton Foundation's connection to the Uranium One deal was first reported in Peter Schweizer's bestselling book, Clinton Cash: The Untold Story of How and Why Foreign Governments and Businesses Helped Make Bill and Hillary Rich.