Trump Stops Air Force One from Taking Off to Speak with Injured Police Officer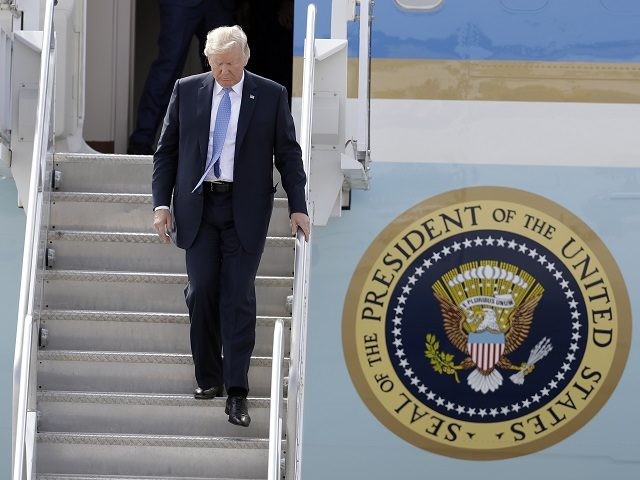 AP Photo/Darron Cummings
Officer Robert Turner, who was providing a police escort for Trump's visit, crashed his motorcycle on the I-70 and was subsequently taken to hospital where he was given emergency treatment and neck brace.
However, shortly after arriving at the hospital, he received a call from President Trump himself, who delayed his flight back to Washington in order to speak with the wounded officer.
#BREAKING: Thank you to @POTUS for delaying wheels up to speak with injured Officer Turner. #ThankYou pic.twitter.com/nJ1TtkP9Bx

— IMPD (@IMPDnews) September 28, 2017
"On behalf of the IMPD, we would like to take an opportunity to thank President Donald J. Trump for his thoughtful act in delaying his departure in Air Force One until he was assured that the officer injured in the motorcade accident was OK," the Indianapolis Metropolitan Police Department wrote on Facebook.
"Calls were made by his staff to Chief Bryan Roach checking on Cycle Officer Turner. President Trump even took the time to speak with Officer Turner after the accident, to check on him," it continued. "Thank you for your compassion, concern, and leadership, Mr. President!"
The White House also confirmed the incident, stating that the officer had suffered a broken ankle and possible contusion, and expressed his gratitude for his service and wished him a speedy recovery. They also confirmed that no one else was injured in the incident.
The incident took place towards the end of Donald Trump's visit to Indianapolis, where he announced the framework of his plan for tax reform, which he claimed will restore the American dream for working families.
"It is time to take care of our people, to rebuild our nation, and to fight for our American workers," Trump said during the visit.