You gotta give those Democrat hypocrites a lot of credit. They along with the liberal media all stick together and sing the same tune, or in this case look the other way. Remember all the nonsense with Trump and Russia. Trump couldn't be at a function or a packed room with a Russian without the call for conspiracy and treason on Trumps part. God forbid Trump put Russian dressing on his salad. Now we have the Democrat Governor of California heading to Russia to meet with Putin and not a peep from the fake news media. We have a Democrat collaborating with Russians and there is no interest by the media. I hope that President Trump keeps on hammering those spineless mutts who call themselves journalists. He is 100% correct by calling them fake news.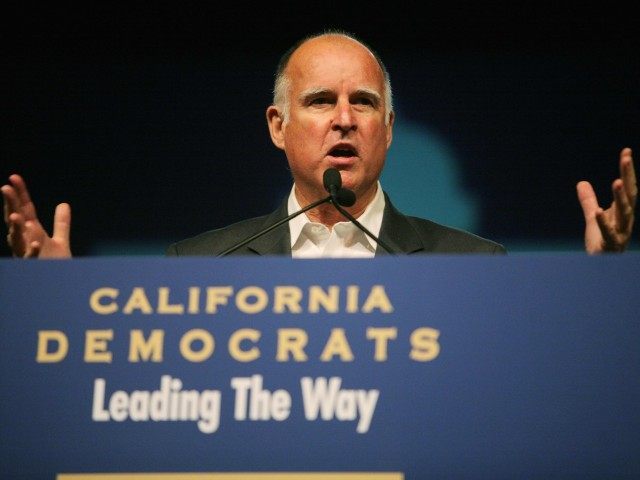 ——————————————————————————————
California Gov Plans Climate Change Talk At Russian Forum Hosted By Putin
Brown, whose term as the state's governor ends later this year, is on a quest to elevate California's role as a warrior battling global warming. He is striking out on an international tour to position himself as the principal opponent of President Donald Trump's climate policies.
"This Pacific forum on trade isn't just an occasion to promote investment, it's an opportunity to strengthen our commitment to decarbonizing the economy," Brown said in a press statement Wednesday night about the forum Putin created in 2015. "Every government and every business is responsible for making this radical turn."
He will arrive in Vladivostok, Russia shortly after the Trump administration forced Putin to close his country's consulate in San Francisco. The order was given in retaliation for the Kremlin's demand that the U.S. significantly reduce its diplomatic staff in Russia.
Brown intends on discussing collaborations on targeting climate change with various Pacific nations, including with world leaders such as Japanese Prime Minister Shino Abe and South Korean President Moon Jae-in. He does not have any private meetings scheduled at the forum with any leaders, Brown's spokesman Evan Westrup told reporters.
His belligerent position against Trump came after Trump officially pulled out of the Paris climate agreement, a non-binding deal that former President Barack Obama signed in 2015. It committed each country in the 200-nation pact to lower greenhouse gas emissions.
Obama promised to reduce greenhouse gas emissions by 28 percent below 2005 levels by 2025. He also pledged $3 billion to help poorer countries like China and India to reduce their emissions.